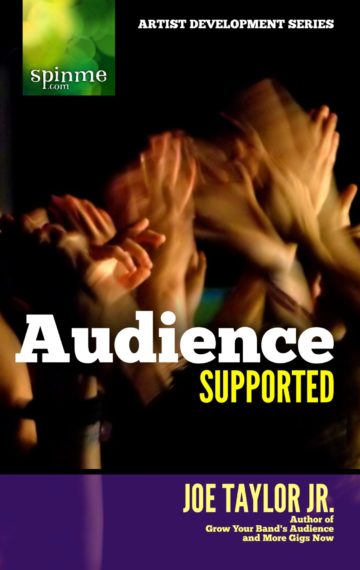 $17.99
Publisher:

spinme.com

Edition:

Prerelease

Available in:

Paperback, Kindle, PDF

Available:

June 27, 2017
"You don't need a hit to survive."
That's the crux of the argument Kevin Kelly made in his 2008 essay, 1,000 True Fans. Kelly's influence in the technology sector brought into wider debate a topic that regular readers of spinme.com have watched our community debate since the late 1990s. Instead of waiting to "get signed," to "get discovered," or to win a reality show competition, you can just focus on building an audience just large enough to support you financially from year to year.
We're not content with just "getting by," though. We want artists to thrive.
Believe it or not, there's actually a "magic number" that American researchers call the "income plateau." Hit that income, and no more money will make you feel any more secure or any more content about your career.
Economist Angus Deaton and psychologist Daniel Kahneman reviewed Gallup surveys of over 450,000 Americans between 2008 and 2009. The Wall Street Journal's Robert Frank chronicled the pair's findings in 2010:
"As people earn more money, their day-to-day happiness rises. Until you hit $75,000. After that, it is just more stuff, with no gain in happiness."
What would it mean for you to earn $75,000 next year?
Would that be enough to replace your current "day job?" If you consider yourself a "starving artist," would that amount get you fed? What would your daily routine look like if you reported to a community of 3,000 superfans instead of to your current boss?
Having spent most of the past twenty years talking to artists (both successful and otherwise), I can tell you that the answer's deeper and more surprising than you'd imagine. As I learned from business coach Andrea J. Lee, who first taught me how to play this kind of "money game," it's easy enough to break down how much you'd have to earn from an army of fans.
It's a different challenge to set those fans up with the system you'll need for them to support you every year. That's where I think Kickstarter has turned into the current decade's equivalent of FM radio's "local music hour."
Your audience values the feeling that they're connected to you, and connecting with them in person is still the fastest, most effective way for you to win the money game.