When I worked at World Cafe, we spent an afternoon recording a session with Donovan.
He's one of the genuinely nicest guys I've ever met. I'd never have believed he'd become such an important part of my memories.
At the end of the taping, he told me he wanted to share a special gift with me. From a briefcase, he pulled out a small satchel that revealed a small set of wind chimes with his name etched on the wooden top.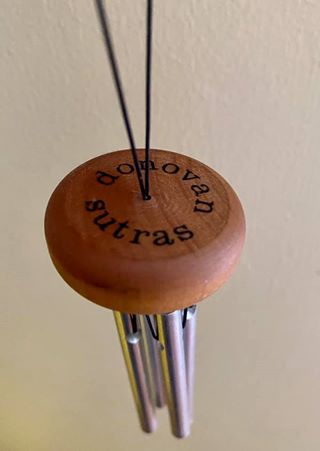 I've received more than my share of promotional merch over the years, but Donovan was very excited about having convinced his label to spend some budget from his Sutras album to make these little wind chimes.
He made such a ceremony of gifting these to me—even though I assumed he did the same little ceremony with someone at every stop on his promo tour. But his sincerity in that moment really touched me, and he told me he was so grateful that the segment we made covered so many facets of his career. Those chimes are one of the few little gifts I've held on to after all our moves around the country.
24 years later, on my dad's last lucid day in hospice, when it was just him and me in the room, his face lights up.
"Hey! You know what song we used to sing along to?" he asked. "Tell me," I said.
"MELLOW YELLOW." He rolled those words off his tongue like he was sharing a secret of the universe. "Do you remember that song?"
"Yeah," I told him. "It's in my music library on my phone. We can listen to it together right now."
So my father, who spent his nights in the Navy bootlegging airchecks of European pirate radio stations on a reel-to-reel tape recorder, pulled himself up to the head of his bed. Dad let me listen to those recordings when I hit the age that I started understanding what music meant—and what radio could sound like. The first times I ever really heard music by The Beatles, The Stones, and—yes—Donovan, were all when we played back those tapes.
So we sang along with Donovan, the last song we'd listen to together.
Dad even whispered the "quite rightly" lines.